Awana 2017/2018 has begun!

Wednesdays, 6:30-8:15 p.m.
LIKE US ON FACEBOOK! Regular Updates on themes and weekly sections are done on the Elim Awana Facebook Page. Click here to like the Elim Awana Facebook
Click here for an important welcome letter.
Click here for the 2017/2018 calendar.
Step 1: Click here to fill out the online registration form.
Step 2: Click here to pay the registration fee online. (Please provide the child's name in the shipping information to ensure we can credit your payment to your child's account.)
Cost is $30 per child (which includes an Awana bag, a uniform, and a handbook!).
---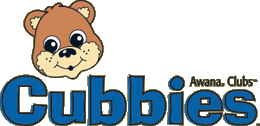 Cubbies is a fun, exciting program for preschoolers, 4 and 5 years old. Kids in Cubbies learn all about who God is and His amazing love for them while learning Bible verses, hearing stories, watching puppet shows, singing songs, and much more!
---

Sparks is for Kindergarten through 2nd grade. Sparks builds on the material taught in our preschool club and after being immersed in solid foundation teaching at the preschool level, boys and girls frequently come to an understanding of their need to trust in Christ as their personal Savior while in Sparks. The aim of the curriculum is to take youngsters a step deeper into God's Word and teach them the amazing truths about who God is and how much He loves us.
---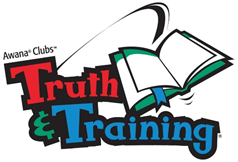 T&T, stands for Truth and Training, and is our program for 3rd through 6th graders. Likes Sparks, it is designed to give you a connection point with your child during the week, but is designed to take your child even deeper in their understanding of who their Heavenly Father is.
---
2016/2017 Year in Review:
2016 Awana Grand Prix:
2014-15 AWANA HIGHLIGHT VIDEO:
---
---
Awana® and the Awana logo are registered trademarks and service marks of Awana Clubs International. Used by permission.