If you liked this post, say thanks by sharing it.
Having been to the fair, I can tell you there is no lack of choice. From your pick of animals to smell and amusement rides to jostle the "kid" in you, to every gastronomical delight a taste bud may savor that wallet can procure. Whatever you desire, it's there — especially if it's deep-fried. When I was a wee lad, I knew the "elephant ear" to be a rare treat. Being of tender heart, I, of course, had misgivings about the origins of said delicacy and approached each encounter with reverence, at least until the buttery, buttery goodness reached my tongue and then any sense of propriety was thrown out the window.
Unfortunately, I don't know how to tie edible pachyderm parts into an object lesson with spiritual implications — this is where the funnel cake comes in. Next, I suppose I need to apologize in advance to all you linear thinkers out there who are hoping I produce a direct connection; alas, you are to be woefully disappointed.
On Sunday last, Pastor Martin spoke of the narrow and the broad way, at one point referencing a funnel to illustrate this truth. I think this is a profound picture to keep in mind and meditate upon. Other than cars and kitchens, I don't know where you'd find funnels, but either way, I invite you to bring a picture of one familiar to the forefront of your mind (or just look below).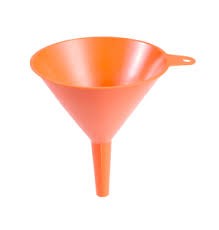 The open, or "gathering," side represents the wide way, one like the fair with options galore. You can choose "traditional" Christianity or choose a "prosperity" message. You can select a life closely following religious mandates or traditions, or you can choose "freedom" from any code of conduct other than that which seems good to you. You may go to church weekly, on Christmas and Easter only, or not at all — It's entirely up to you, and that's the point — you create a system of morality and a god in the image that is acceptable to you and, after all, as long as you are sincere, who is to say any differently? The problem is that there is no life here, only a shrinking existence — spiraling toward the small end — culminating in spiritual death.
But there is another way. Look at the narrow end — such a small opening; there's not much room to pass that way. That way is Jesus. It is not Buddha or Mohammed. It's not "spirituality" or sincerity or keeping rules, laws, or promises. You can't take anything with you on this journey; there is room for neither pride nor prejudice. Passing through the narrow way is akin to baptism, symbolizing and identifying with Jesus in His death. But this is only the beginning. From there, from the narrow and uncompromising path of accepting our guilt and inability to do anything about it, embracing God's solution in Jesus Christ's sacrifice, and entering the life of Jesus, from there life eternal begins! Traversing through the narrow way, we come to an opening that has no ending. Expanding ever outward, representing resurrection, this eternal life begins immediately, bringing true freedom that the world cannot offer nor comprehend.
So, the next time you visit the fair or decide to change your engine oil, remember the illustration of the funnel and the amazing gift of God, given to the undeserving, bringing life forevermore to all who praise the name of Jesus!
If you liked this post, say thanks by sharing it.