If you liked this post, say thanks by sharing it.
By Bill Naron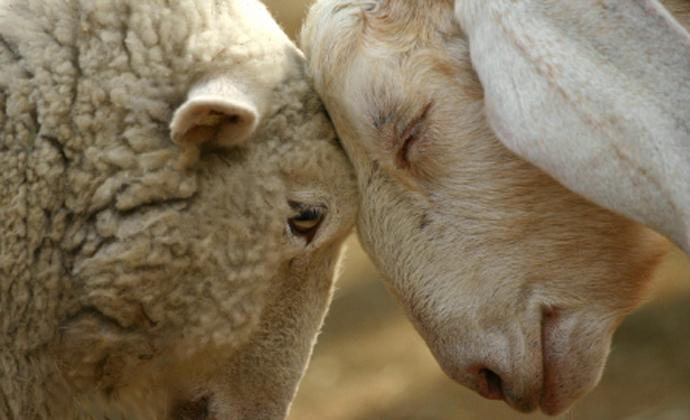 Image courtesy University of Minnesota's College of Veterinary Medicine.
The other night, my wife and I began talking, and not just small talk. We were talking about the topic of service. I know, so typical, let's talk about service the week going into Thanksgiving. Well, give me just a few moments to be super cliché. So, back to my wife (Sam) and my discussion, which went super late into the night. We talked about what it may look like to begin to try to infuse attitudes of service into the fabric of our family. So, wouldn't you know that after this conversation my biblical character calendar would be talking about hospitality/service, and I would stumble upon a story in one of my favorite blogs about a family who began serving together. I just have not been able to stop thinking about this topic!
Mark 10:45 (KJV) says, "For even the Son of man came not to be ministered unto, but to minister, and to give his life a ransom for many." It says that Jesus Himself came to this earth to minister, or serve. He did not need to be served, but was sent to us to serve us people who were not worthy, people who were undeserving. He came to meet us in the place that we were in, no matter where that was. This makes me think of how every morning I drive down Portland Avenue, and it comes to a point where the road goes under an overpass of I-5. At this point, at any given point in time, there are numerous homeless people, and it just seems that more and more are filling the area day after day.
As a passionate follower of Jesus who desires to grow and change to be more and more like my Father and less like the world, I believe we must pull back the curtains and examine our hearts. I get the hindrances; there is just not enough time—we have soccer, piano, violin, and the list go on. Maybe we just do not feel called to do so, it is not in our ability, or maybe we feel it poses a lot of risk and danger. But Jesus Himself says that even He did not come to be served but to serve. And 1 Peter 4:10 says that with the gifts we received we should serve others.
If I am a passionate follower of Jesus, serving those around me is my calling, serving those in need is in my abilities, meeting people where they are at and serving and giving is something that is commanded of me! For Sam and me, the discussion has been, What would be a practical application of serving and a way that we can speak this core piece of the gospel to those around us? I believe that this is what needs to be done, especially if you have a family with small children. Find simple, practical things that can be done, such as making up care bags to keep in your car to give to those in need as you cross paths with them.
The next thing that was a huge epiphany for me was that I need to be willing to help and give to anyone who expresses a need, not expecting anything in return. It means that homeless guy on the side of the road. It does not matter what he does with what I give him; what matters is my heart in giving it to him. We are called to give and to serve and to not worry about receiving thanks or about whether they are really in need of it or not. Jesus served us, and we did not do anything to deserve it, and by that He set the example for how we are to serve.
In Matthew it talks about the Father separating the sheep from the goats in the end; He says to the sheep that when He was hungry, they fed Him, and when He was naked, they clothed Him, and when He was a stranger, they took Him in. To the goats He says to depart away from Him, for they did not do these things. And when the righteous asked when they had seen Him in these states, He said that what was done to the least of his brothers was done also to Him.
The challenge I see before us is this: if we view people through the eyes of a loving and caring Savior, then whatever service we do unto them, we are also doing unto Him, out of obedience to Him, and out of an abundance of love for our Father. So, the question is, Are we going to be sheep or are we going to be goats?
If you liked this post, say thanks by sharing it.