If you liked this post, say thanks by sharing it.
By Tom Chase, Elder Board Chairman
I want to share just a few of the things we do and have done as a family around Christmas. These traditions have helped restore and maintain meaning to this incredible time of year when we celebrate Jesus!
Several years ago, we began celebrating Saint Nicholas Day on December 6. What is Saint Nicholas Day? It is a day set aside to remember the man Nicholas of Myra. He was a Christian saint who was born March 15, 270AD, and died December 6, 343. He was a follower of Jesus and a leader in the church (a bishop). He wore red robes and a pointed bishop's hat. Names like O' Saint Nick, Sinterklaas, and Santa are all personas derived directly from Nicholas.
Nicholas had compassion, a soft spot, for orphans. He would make little wooden toys and spiced cookies for them. Today we give gifts, and many make gingerbread men cookies.  When I was little, we had a cookie cutter of a gingerbread man. I always thought it was strange, though, because it had a pointed head — ah, the bishop's hat from Nicholas.
Another story of Nicholas tells about a merchant sailor who lost all his ships and wealth at sea. He had several daughters, and this loss would mean his daughters would be unable to marry, as a dowry was required. Nicholas learned of this loss and what it would mean. One of the girls intended to sell herself into slavery so the other sisters could marry.  Nicholas put his plan into action — he came at night and dropped bags of gold coins through an open window. Some of the coins landed in stockings hung by the window. Because of his generosity, the girls were then able to get married.
Hanging stockings by the fireplace filled on Christmas morning, gingerbread men, and giving gifts to one another all have beginnings here.
Saint Nicholas Day becomes a time when we celebrate and remember a passionate follower of Jesus who would be happy to celebrate with us the birth of Jesus, the Savior of the world, because that is what Nicholas did with his life!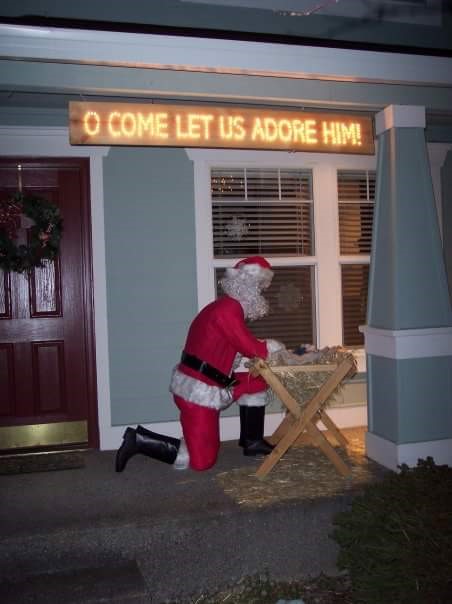 Years ago, when I was still a child, we began celebrating Christmas like it was Jesus's birthday. I know we don't know the exact date He was born, but Christmas has been set aside to remember that God came and was born — He became a man. As a small child, I wondered, "If it's His birthday, where are the presents for Him, and where is His birthday cake?" That year we baked a cake and decorated it for Jesus's birthday. If I remember correctly, we put candles on it and sang "Happy Birthday" to Jesus!
We have celebrated in various ways over the years, including by playing birthday-party games, such as Pin the Star over Bethlehem. But the one consistent part that began that first year is a present for Jesus — a wrapped package under the tree with His name on it. The package has a removable top; on Christmas day, we as a family sit down and write on a piece of paper what we want to give to Jesus in the coming year. These notes are individual and private, shared with others only if the writer desires. These notes are then placed in the box, prayed over individually, and placed again under the tree — Happy birthday, Jesus!
Over the years, before writing the new gift, I will often go back and read previous years' gifts. What an amazing reminder of how God has met me in the gift given previously. When my kids were small, writing a note was too involved for them, so we would just encourage them to draw a picture and/or color it for Jesus. This time is incredibly precious to me — Happy birthday, Jesus!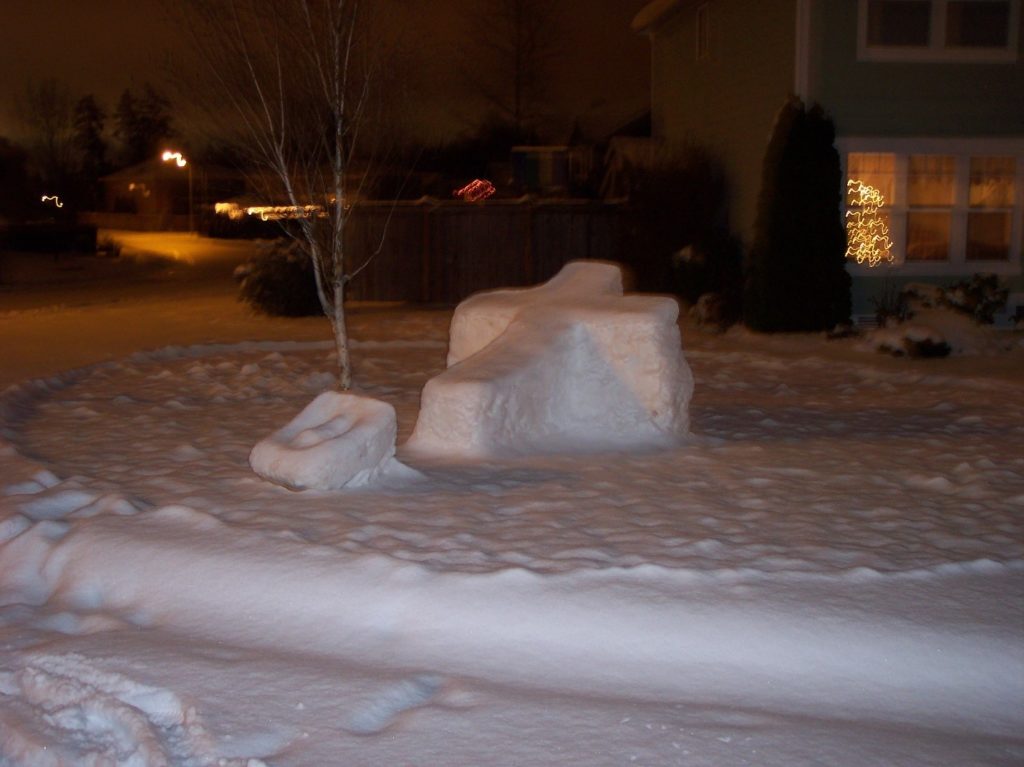 Another thing we did, especially when my children were small, was to enact the Christmas story. We got a small, nonbreakable nativity set in which baby Jesus could be removed from the manger. A couple of weeks before Christmas, we would set up the stable and place the empty manger in the stable with some animals. At the other end of the house, Mary and Joseph would start their journey to Bethlehem. Each day at night, we would advance Mary and Joseph along and ask the kids where Mary and Joseph were on the trip, then talk with them about the story — like where and why they were going, and Mary's condition (expecting a baby!).
As the days went by, the kids enjoyed looking for Mary and Joseph. They would travel along the tops of picture frames, bookshelves, and any flat surface along the way to Bethlehem and the stable. Mary and Joseph would arrive at the stable Christmas Eve day, and we would explain why they ended up in the stable. We would talk about how Mary was going to have the baby on Christmas morning. Each of our kids, when young, ran to the stable on Christmas morning, saying, "The Baby's here!" They didn't run to the tree — that came later — but they got the message, and so did I. The shepherds can show up later on Christmas to see this thing God has done. If you want, in the days that follow Christmas, the wise men can follow a path similar to Mary and Joseph's and arrive to celebrate the coming King — worthy to be worshipped and adored!
I share these traditions not to add more things to an already-busy time of year. I know I have longed for meaning in all the busyness, not just more things to do. My hope and goal would be for us (you and I) to find freedom in celebrating the real meaning of Christmas found in the person of Jesus. Feel free to add and subtract any of these. And don't feel like you have to do all or any of these things.
I would love to hear some of your traditions and the meaning behind them, with the hope and goal of worshipping our Lord and Savior, Jesus Christ!
O come, let us adore Him,

O come, let us adore Him,

O come, let us adore Him,

Christ the Lord.

We'll give Him all the glory,

We'll give Him all the glory,

We'll give Him all the glory,

Christ the Lord.

For He alone is worthy,

For He alone is worthy,

For He alone is worthy,

Christ the Lord.
If you liked this post, say thanks by sharing it.