From Senior Pastor Martin Schlomer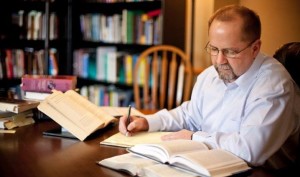 Thank you for your interest in Elim! We pray God would use the community at Elim Evangelical Free Church to walk with you in a meaningful way as you take the next step in your relationship with Jesus Christ.
Whenever people visit a new church, they have a lot of questions. One of the first questions people ask me is, "What does 'Elim' mean?" Soon after I arrived as the senior pastor, a visitor asked that very question. I said I wasn't sure, but I thought it had something to do with an extinct Indian tribe which once lived in this area. Another person suggested it might be "mile" spelled backward.
Were we ever wrong! In Exodus 15, we read about a place called "Elim." After a very stressful day of running from the Egyptian army, the Israelites needed some down time. In Exodus 15:27, we read:
". . .they came to Elim, where there were 12 springs and 70 palm trees, and they camped there near the water."
Imagine having a week like the Israelites had and then seeing an oasis on the horizon! I believe their hearts raced and their pace quickened at the sight. It is our passion that Elim EFC will be an oasis, a place where people are drawn to know and follow Jesus and enjoy the life and satisfaction only He can provide. Our passion is to become: "… an oasis for renewal with God and one another."
How do we try to accomplish this? As an Oasis, we will nurture passionate followers of Jesus Christ by: Knowing God,Growing together in Christ, andGoing and serving South Hill and beyond.
Let me unpack this.
KNOW God — This is not simply an intellectual pursuit. While we value a developing and rigorous understanding of our Christian faith, our pursuit can't stop there. We must connect relationally with the God we worship! Paul's prayer for the Ephesians is our prayer for Elim: "I keep asking that the God of our Lord Jesus Christ, the glorious Father, may give you the Spirit of wisdom and revelation so that you may know him better" (Eph. 1:17). This speaks of connecting with Him deeply and relationally and delighting in Him as well as in His ways.
GROW together in Christ — As a community of faith, we walk through the process of maturing in Christ together. What does maturity look like? Paul writes, "And we … are being transformed into His likeness with ever-increasing glory …" (2 Cor. 3:18). In other words, as individuals and as a community, we are becoming more and more like Jesus, reflecting His heart and character.
GO and serve South Hill and beyond — Jesus left us here to "bear fruit" (John 15:1-6). Part of what this means is to live out the Gospel in word and deed by being the words, hands, and feet of Christ whenever, wherever, and by whatever means necessary. This is our mission!
If you have any questions that are not answered as you browse this website, or if you just need someone to listen and pray with you, please email me or give me a call at 253-848-7900.
May God bless and guide you as you search for a group of believers with whom to worship and to live out the realities of this life of faith.
Pastor Martin Schlomer